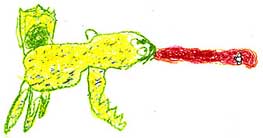 Tramaine Tyson's drawing of a frog.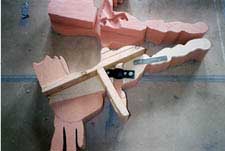 In the foam cutout of the frog, the tongue and seat are reinforced with wood and a vertical channel is cut for the pole.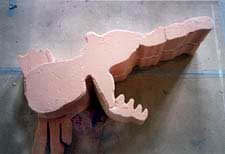 A second piece of foam is glued on top.
Milo needed help to make the carousel, since he'd never made one before. He asked Marvin Sylvor, from Fabricon Carousel Company, to make the mechanical parts that spin the carousel and the framework that holds all the parts together. He also looked for some people who were skilled painters and crafters to help him make the figures and ornaments. He hired Betsy, Ethan, Ken and Kate.

Then he figured out how to make figures that would look just like the drawing, but would be strong and durable and safe to ride.

First, Milo enlarged the drawing and traced it on to two big slabs of soft pink foam and cut them out. Then he built a specially fitted wood and metal armature that would hold the pole firmly and to reinforce the saddle and protruding parts of the animal. Next, he fit the armature on top of one cut out, then fit and glued the other piece of foam on top, making the whole figure into a pink foam sandwich, with wood and metal in between.