A Short History of Tall Characters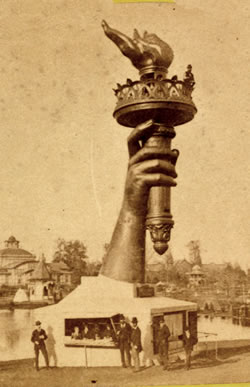 Roadside giants are a venerable part of the American folk-pop cultural tradition, with a history of over one hundred years.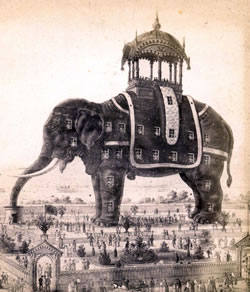 Two late Victorian giants captivated all who beheld them.
The year 1885 saw the opening of the mighty Elephant Hotel on Coney Island—a five-story tall pachyderm-shaped building containing 31 rooms and topped by a viewing deck large enough for one hundred revelers. It burned around the turn of the century, but there still exists a smaller prototype named Lucy in Margate, New Jersey.
In 1886 the colossus that became a symbol of America itself was unveiled, the Statue of Liberty.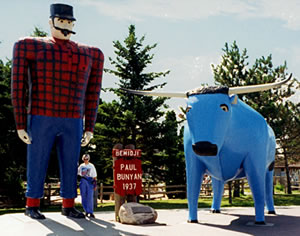 Travel by car encouraged the flourishing of the roadside colossus. Minnesota, with its long, cold winters, was fertile ground. Inspired by local legends, people created gigantic statues of Paul Bunyan and his blue ox, Babe, to bring fame, excitement, and a bit of magic to their hometowns.
The idea went viral and others created their own giants—huge tiger muskie fish, prairie chickens, and weasels appeared in town centers and parks as delightful distractions for travelers and kids. Many are, to this day, beloved and protected monuments.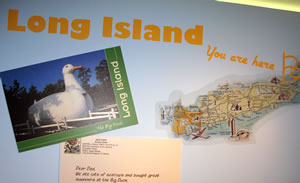 On Long Island the legendary Big Duck of Flanders is held with such affection in the hearts and minds of residents and travelers that it is now on the U.S. Register of Historic Places and is often used as a symbol for the entire area of the state.
All around the United States charming and amusing dinosaur parks, muffler men, lumberjacks and other colossi built by roadside visionaries have became a genre of art all their own. In recent years historians and commentators have discovered and written extensively about them. But even more important, these gigantic sculptures have helped define and give character to places, to make them unique, and to make them unforgettable.
The Valley of the Giants project will employ this tradition to empower local farms, businesses and communities and to enrich the roadside culture of the Rondout Valley with giants that tell our own unique stories.