Local Giants
Every community, farm, and business faces a dual challenge. The first is being good at what they do: for most, this means being excellent at a reasonable cost. In this economic climate, this is challenge enough! But the second part is wholly different--promoting the excellence that's been created. Large corporations have the advantage of huge marketing and advertising budgets to create vibrant brands, reinforced with constant brilliant advertising. Corporate logos are among the best known images in the world. How can independent names compete?
Local enterprises may have wonderful community values, be family-owned, and have faithfully served the community for years, but still have problems competing with the flash, and glitz, and ubiquity of national brands. There are few ways to be as persistent and loud as Hannafords or Target. But we have a way to capture the hearts and minds of local people and offer novelty and fun to tourists.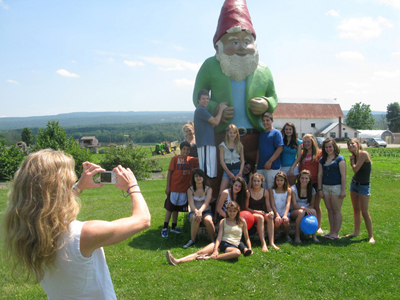 A giant gnome was chosen for Kelder's Farm to evoke gardening, and also because garden gnomes were found on the first miniature golf courses in the 1930s.

The answer is surprising, but actually tried and true: a roadside giant. Our Local Giants are unique and meaningful—each one a powerful identity inspired by your own history, products or services, specialties or other symbolism. A Local Giant can tell the story of your enterprise or community. It can be fanciful, charming and captivating. A giant literally puts a face on your community, farm or business, and people naturally respond warmly to a happy, welcoming face.
We know this through experience with our own roadside giant at Kelder's Farm and Homegrown Mini-Golf. People remember him, use him as a land mark, take their family pictures with him. People become fans, and even want merchandise with his image.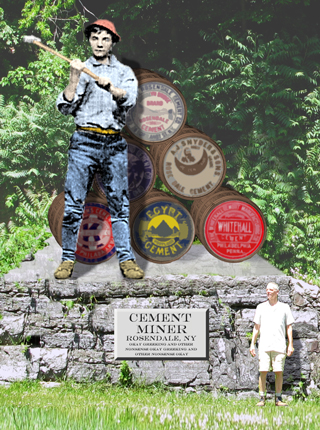 The next member of the Valley of the Giants will honor the cement miners of historic Rosendale. The initiative is lead by Bill Brooks, the can-do godfather of the Rosendale International Pickle Festival.
Tourists love roadside attractions, especially surprising and unique ones. People will travel to see a giant, take photographs and share them online with everyone they know. Souvenirs of Local Giants become unique must-have travel mementos. Again, we know this through experience with our own giant.
A giant is a magnet for media attention—it makes a great news image. The building of a giant will draw journalists—and editorial coverage is free advertising of the best sort. A giant that incorporates changing elements or seasonal props continues to attract attention.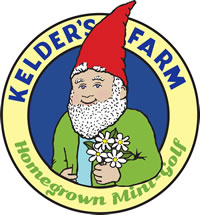 Furthermore, the giants we create won't exist in a vacuum. Our company can design supporting marketing materials like logos, graphics, web sites, newsletters, postcards, advertising, souvenirs and product packaging and will work with you to make the most of them.
Below are some ideas for Local Giants that celebrate our valley's fantastic agricultural bounty.