Strength in Numbers
Beyond the advantages of a having a Local Giant to honor your community or promote your enterprise, we have a larger plan that will amplify the power of your Local Giant. Once several giants have been made, the Rondout Valley becomes the Valley of the Giants­—a beautiful, picturesque, enchanted land populated by charming, surprising, folkloric gigantic creatures.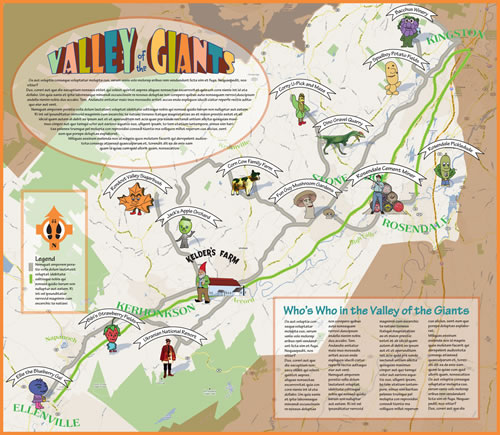 Promoting the group as Valley of the Giants has huge potential, beginning with maps and tours. A tour of the Valley of the Giants will take visitors not only up and down the length of the Route 209 from Ellenville to Kingston, but off the beaten path to less traveled roads. A Valley of the Giants web site will promote all the Giants to weekenders and other travelers and a mobile phone version will entice tourists on the fly. GPS games can revolve around the Giants.
Valley of the Giants merchandise will be designed in collaboration with members of the group using local produce, materials and recyclables, and will be manufactured locally. Point of purchase displays will attractively show off the goods. Products like sticker sets and charms will encourage travelers to visit each Local Giant. Valley of the Giants activity books will tell your story to kids and parents and include games that encourage a deeper engagement with our corner of the planet.