Provided for Media
Hi-rez images and contact info here for all journalists.
Published in the Media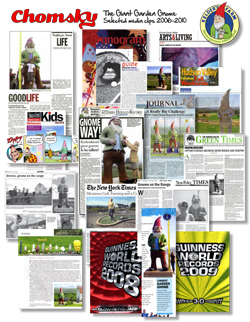 To the left is a collage of just some of the articles that have been published about our favorite giant gnome over the five years he's been in residence on Kelder's Farm. Click it for a larger view or click here to read individual articles. Chomsky has also been found on over 200,000 web pages (as of January 2011). He's also got his own gnome page.
Click to read these articles about the Valley of the Giants.
Bluestone Press
October 7, 2011

Shawangunk Journal
October 6, 2011

Bluestone Press
October 21, 2011
Bluestone Press
October 21, 2011

Bluestone Press
August 19, 2011


Bluestone Press
August 19, 2011
Bluestone Press
August 19, 2011

Times Herald Record
August 18, 2011

Daily Freeman
July 19, 2011
Tri Valley Townsman
July 28, 2011
Shawangunk Journal
July 7, 2011

Bluestone Press
August 5,2011

Bluestone Press
March, 2011
Shawangunk Journal
May 2011
Bluestone Press
July 1, 2011
Shawangunk Journal
July 7, 2011